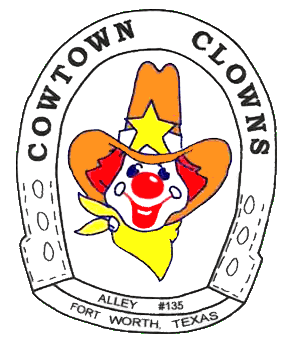 Alley History
Fort Worth, Texas
Cowtown Clowns, Alley # 135, was founded in October, 1980 by a group of six area clowns, including Edna "Crackers" Flanagan. The mission of the alley has always been to promote the art of clowning.
In January of 1981, they were chartered by what is now called Clowns of America International, Inc. as an official clown alley, thus the distinction of "Alley #135". The alley's first president was Alice Smith.
The alley has also been chartered by and is affiliated with the Texas Clown Association. It is Texas Clown Association Alley #9.
Since its beginning, Cowtown has served its mission by educating and encouraging many in the Fort Worth area in the art of clowning. Members of the alley have received a variety of awards, trophies and honors, both locally and internationally. Some individuals have gone on to receive acclaim as professional performers and to hold offices in international and state clown organizations.
Over the years, Cowtown members have been involved locally in such events as:
Various Parades
Mayfest
Oktoberfest
The Youth Orchestra
The Little Night Run
Boo at the Zoo
Greet the Troops
Various Hospitals, Nursing Homes, Schools & Churches
Special Needs for Children & Adults
Community & Charitable Events
Cowtown Clowns have hosted a variety of educational events over the years featuring nationally known performers. The alley has hosted Texas Clown Association's annual conventions in 1993 at the Green Oaks Inn, Fort Worth, 2004 TCA convention at the American Airlines Training Center in Fort Worth and the 2010 TCA Convention at the Convention Center in Granbury. Cowtown Clowns also hosted the COAI convention in 2001 at the Radisson Hotel in Fort Worth.