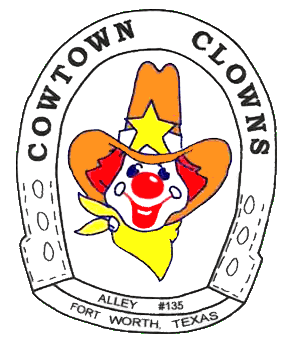 About Us
COWTOWN CLOWNS ALLEY # 135 - Fort Worth, Texas
P.O. Box 820075
Fort Worth, Texas 76182
If you are someone who wants to be a clown, a serious-minded amateur, a semiprofessional, or a professional clowns, Cowtown Clowns Alley is the place for you.

Cowtown Clowns meets on the 4th Monday of each month at the First Baptist Church of Hurst located at 1801 N. Norwood, Hurst, Texas, 76054. Doors open at 6:30 p.m. to allow you to network, socialize, or check out a book from our library until 7:00 p.m. when our meeting starts.
The purpose of Cowtown Clowns Alley is to share, educate, and act as a gathering place for serious-minded amateur, semiprofessional, and professional clowns to further define and improve their individual clown characters and performance. Cowtown Clowns Alley clowns will participate in parades, community celebrations, charity events, or anywhere fun is needed.
To arrange for clowns at an event contact our event coordinator:
Lana Sue Fridge joyfulltheclown@att.net or 817-577-0318
Please provide comments of any problem with this website to the webmaster at kudosra@yahoo.com.